The Brights' Net Nonprofit Status
U.S. Internal Revenue Service Statement of Determination
For U.S. residents, it may be pertinent that the Internal Revenue Service has determined that donations to The Brights' Net are exempt from federal taxes.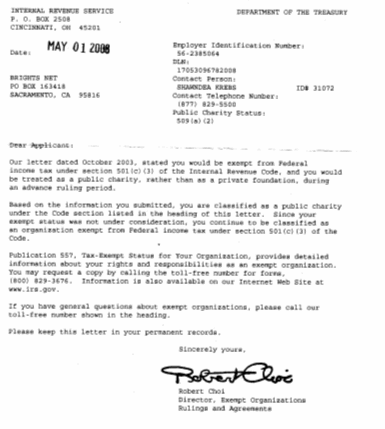 ---
The Brights' Net is Listed on GuideStar - The National Database of Nonprofit Organizations
General Directions for Retrieving Information from GuideStar:
Go to http://www.guidestar.org
In the search box at the left type [brights] and click GO
Click The Brights' Net (in the search engine box)
Basic information about the Brights' Net appears
To review the Brights U.S. Non-profit IRS Form 990 financial statement you must register (this is free and simple). The Form 990 presents data from 2006 - the 2007 statements are not available yet.
---